Derwent has taken their popular Inktense and Graphitint pencils and translated them into convenient pan sets. They've also released a new metallic watercolor set. Personally, I have my eye on the Graphitint set.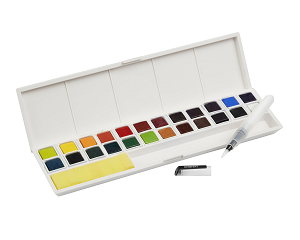 Derwent Inktense Studio 24 Pan Set

INTENSE VIBRANT COLOUR SUITABLE FOR USE ON FABRIC AND OTHER SURFACES. LAYER UP INTENSE VIBRANT COLOURS

Derwent Inktense Paint Pans contain the unique Inktense formulation found in our pencil and block ranges. Unlike traditional watercolour, washes of vivid paint can be applied without dissolving previously dried layers. Inktense is suitable for use on paper and fabric for a wide range of fine art and craft projects. The Studio Set has the complete range of 24 Inktense pan set colours. Ideal for artists and hobbyists who are based in the studio. The stylish container features a removable lid with five large mixing palettes and contains 24 highly lightfast Inktense paint pans, a large waterbrush and sponge.

Metallic Paint Pan Set

SHIMMERING METALLIC COLOUR OUTSTANDING ON BLACK AND WHITE PAPER

Striking on both black and white surfaces, the Derwent Metallic Watercolour Pan Set offers a complete palette of shades that mix beautifully to open a full spectrum of metallic colour. Super fine metallic pigments give a subtle glint from all angles; maintaining their shimmer once dry. Apply in delicate washes and build, or in creamy opaque strokes; layering and blending on the page. Suitable for a range of fine art or craft projects. Contains 12 glistening paint pans, a mini waterbrush, a sponge and five mixing palettes.


Graphitint Paint Pan Set

UNIQUE BLEND OF GRAPHITE WITH COLOUR FOR DRAMATIC TONAL WORK

Introducing graphite in a new paint format for the first time, Graphitint paint is a unique blend of graphite and colour. Perfect for landscapes, the uniquely formulated Graphitint paint has a colour palette of muted, tranquil tones. Mix with other graphite based products such as blocks or pencils or use alone to create a myriad of unique effects including a subtle sheen and fine particle texture only achievable with graphite Contains 12 graphite fused watercolour paint pans, a mini waterbrush, a sponge and five mixing palettes.
Availability
The Inktense Studio 24 Pan Set is $50.00 at Blick. Colors included: Sherbet Lemon, Sun Yellow, Mango, Bright Orange, Poppy Red, Cherry, Fuchsia, Fuchsia, Fuchsia, Dark Plum, Violet, Navy Blue, Mid Ultramarine, Bright Blue, Turquoise , Racing Green, Ionian Green, Teal Green, Hookers Green, Kiwi, Burnt Yellow Ochre, Red Oxide, Natural Brown, Payne's Grey, Ink Black, Antique White
The Metallic Watercolor Paint 12 Pan Set is $25.00 at Blick. Colors included: Silver, Graphite, Gold, Pale Gold, Sunset, Red, Pink, Purple, Blue, Ice Blue, Lime Gold, Green
The Graphitint Paint 12 Pan Set is $25.00 at Blick. Shades included: Port, Juniper, Aubergine, Dark Indigo, Steel Blue, Ocean Blue, Slate Green, Green Grey, Meadow, Russet, Autumn Brown, Graphite Grey.
Have you tried these yet?