Golden Paints is launching a new SoFlat Matte Acrylics line in late February or early March. SoFlat is formulated to create large, flat, even areas of matte color. Available in a range of 40 saturated colors SoFlat is perfect for illustration, graphic design, painting, or street art.
"SoFlat was formulated to make it easier for artists to create uniform fields of rich matte color in fewer layers than our other color lines. SoFlat artwork is easier to photograph and looks fantastic online.

Golden has developed a paint that helps artists create immersive fields of color without the distraction of texture and glare. The paint has a flowing consistency, offering exceptional coverage and a leveling capability as it dries. This unique combination of qualities can only be found in SoFlat Matte Acrylic Colors.

Artists have used gouache for centuries because of its matteness and opacity, but are restricted by its inherently sensitive paint film. SoFlat moves beyond these limitations, providing a velvety smooth, durable surface. The advantages of SoFlat are extended by its compatibility with other acrylic paints and mediums, increasing the range of creative effects that can be achieved."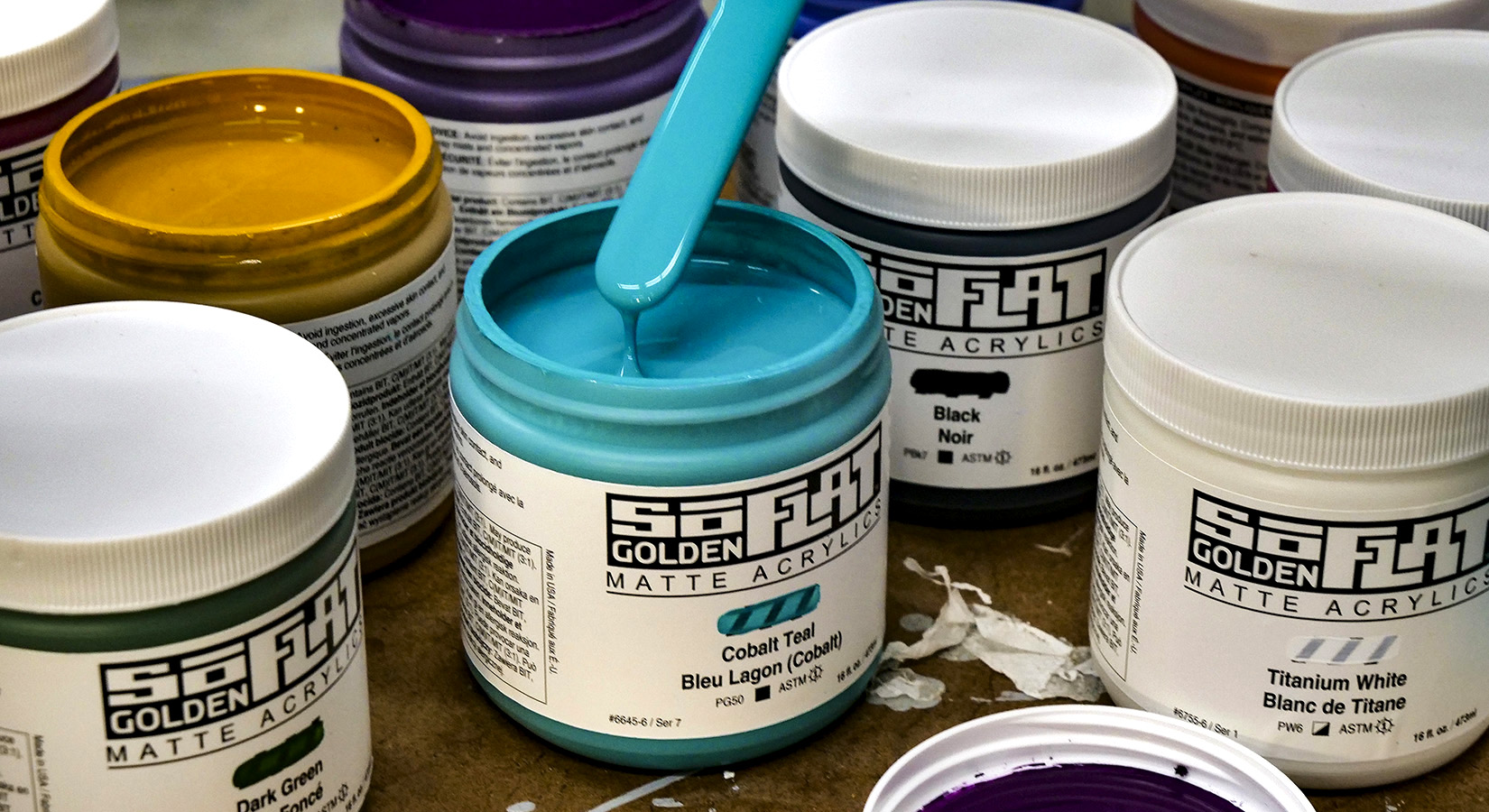 "SoFlat Matte Acrylics go down evenly with full intensity in as few coats as possible. While some pigments are naturally transparent, Golden SoFlat Matte Acrylics have a unique formulation that provides greater opacity from these colors than is normally found in acrylic paints. Most colors are opaque in one or two coats."
"Perhaps the most distinctive quality, and the one that might be most unique to SoFlat, is the paints natural leveling quality. The paint relaxes after being brushed out, making it easier to minimize the appearance of brushstrokes for uninterrupted fields of rich matte color."
"Artists have always been drawn to the enigmatic quality of matte color, and SoFlat delivers with a glare-free surface that allows the depth and intensity of each color take center stage."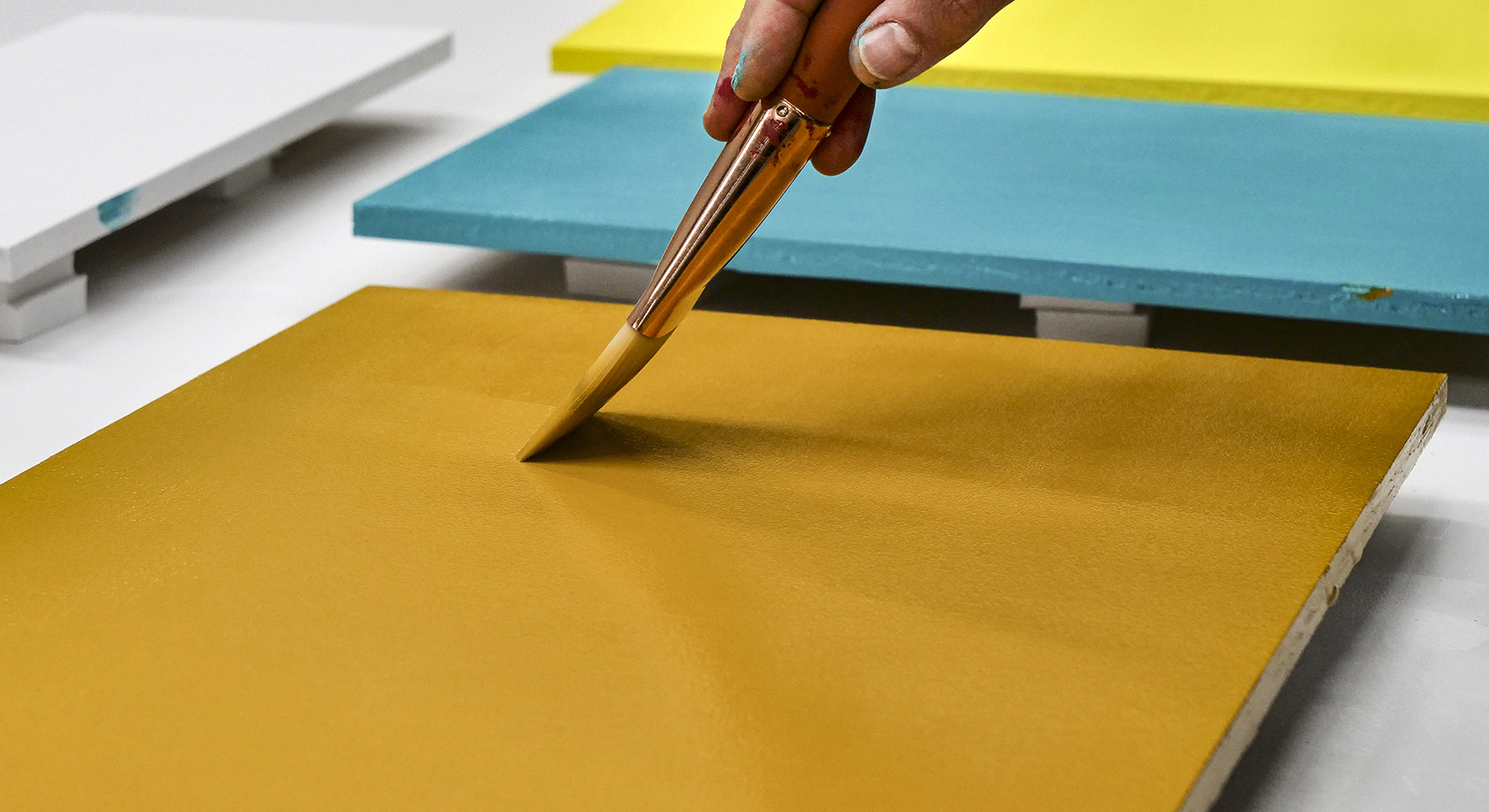 Golden SoFlat Matte Acrylics Color Chart
Golden SoFlat Matte Acrylics Swatches
Golden SoFlat Matte Acrylics Sets
SoFlat Matte Acrylics will also be available in two sets. Each set come with six 2 ounce jars.

SoFlat Pop Set
Bold colors inspired by mid-century pop art and probably the best starting point and value for flat, matte painting. Six 2 oz. jars: Cadmium Primrose, Naphthol Red Light, Ultramarine Blue, Permanent Green, Black and Titanium White.

SoFlat Zing Set
Bright, surprising, high-chroma and intense – the colors of the Zing set will jump off your art. Six 2oz. jars: Bismuth Vanadate Yellow, Cadmium Orange, Naphthol Pink, Red Violet, Cobalt Teal and Yellow Green."
Availability
As well as the two sets, SoFlat will be sold individually in 2, 4, and 16 ounce jars. Golden SoFlat Matte Acrylics should be available at retailers in February or beginning of March.
UPDATE:
See Golden SoFlat Matte Acrylics at: