Caran d'Ache & Mizensir Release Their Latest Collaboration
Caran d'Ache and Mizensir, a Swiss brand that offers personal and home fragrances, unveil their latest edition of graphite pencils made from fine woods and scented with fragrance. The latest scent is "Alps Spirit" and like the previous 2 editions was developed by the master perfumer and founder of Mizensir, Alberto Morillas. Morillas is the legendary perfumer behind Calvin Klein CK One, Estée Lauder Pleasures, Kenzo Flower, Marc Jacobs Daisy, Gucci Bloom, Bulgari Omnia, Must de Cartier, and Thierry Mugler Cologne (a personal favorite) among others.
Caran d'Ache Scented Pencils N° 9: Alps Spirit
Created by Alberto Morillas, the "Alps Spirit" scent reflects the splendour, authenticity and purity of our mountains. The patchouli essences combined with cetalox [synthetic ambergris, a long-lasting musky scent with notes of amber and wood] and nutmeg call to mind the minerality of the open forests and their organic soils which provide the life source for regal hundred-year-old trees such as larch and stone pine. The hints of orange heighten the sensation of a fresh, gentle yet awe-inspiring sunrise over the Alpine peaks set against the infinite blue of the morning sky. The peace and tranquillity of the "Alps Spirit" scent will captivate aficionados and collectors of rare pencils.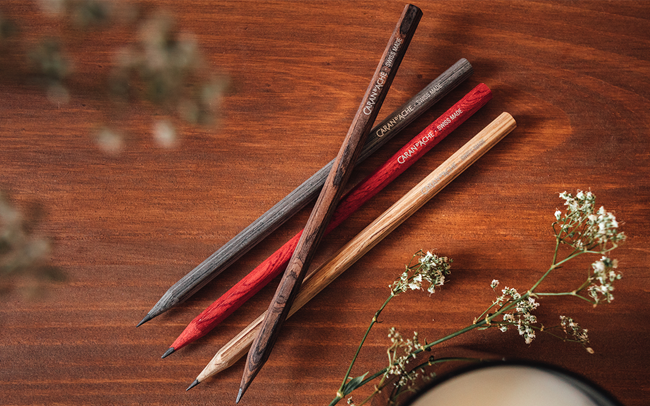 Gorgeous Colors and Textures
This striking 4-pencil set comes in rich shades of cream, brown, gray, and red. The beauty of the ayous (African whitewood) and poplar wood is revealed in the visible grain and striations along the body of the pencil.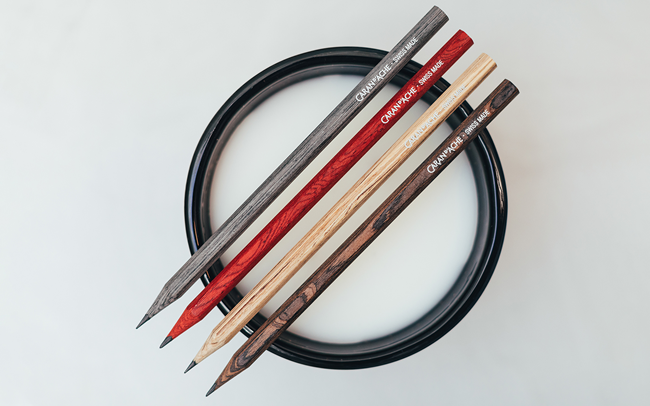 Previous Editions of Caran d'Ache Scented Pencils
Previous sets include Edition Nº 6 Bois du Tibet (Tibetan Wood): patchouli, incense, and tonka bean. And Nº 8 Mémoire d'Ecolier (School Memory): Atlas cedar, rosewood, birch, and liquorice. "This singular scent of freshly cut pencils combined with the sugary notes of confectionery hidden in the satchels or in the desks."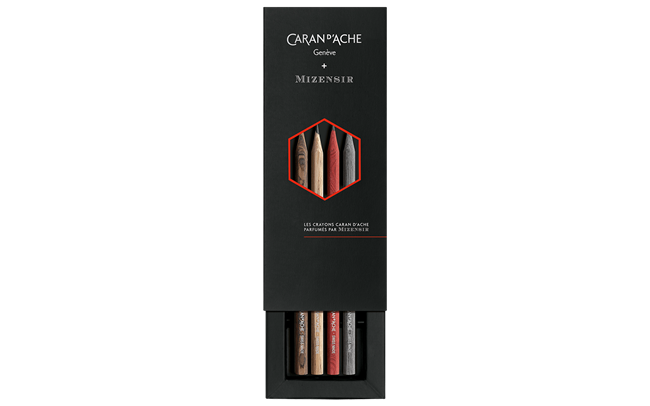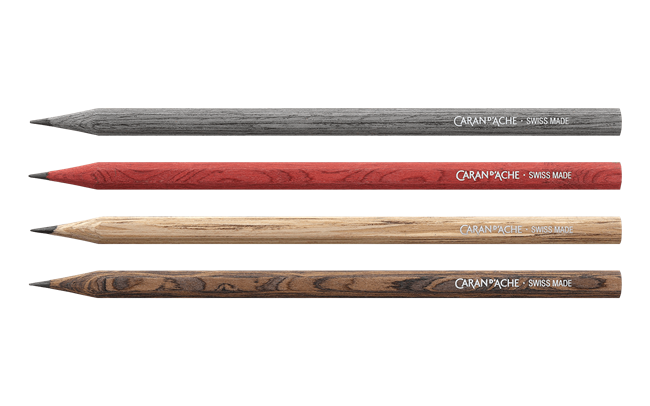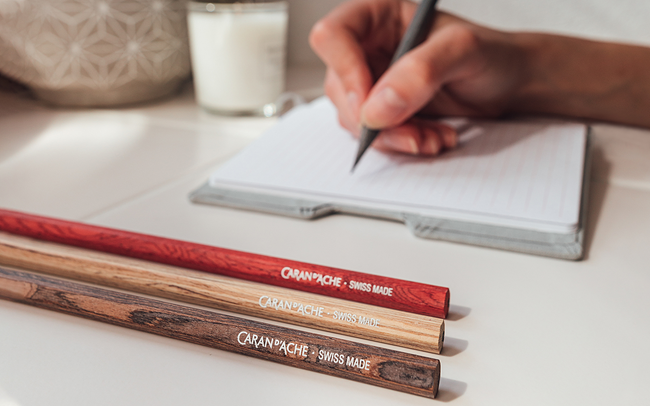 Specifications
4 HB graphite pencils
Top grade reconstituted wood – Ayous and Poplar wood
Leads made of 100% natural products
"Alps Spirit" fragrance: Patchouli, Orange, Nutmeg
Scented solvent-based finish
"Drawer" format packaging
Dimensions: 210 x 85 x 14 mm
Availability
$39.76 (34,90 €) for a set of 4 pencils. Edition Nº 9 Alps Spirit is listed on all of the Caran d'Ache country websites (Germany, Belgium, France, Austria, Italy, Netherlands, UK, and Switzerland) except the United States. As of this writing I'm still awaiting a response to my question regarding US availability. I'll update with more information as it becomes available. Caran Dache Les Crayons de la Maison Caran d'Ache, No 6 edition Scented Pencils, Special Edition
is available from Amazon.
Update
Edition N°9 scented pencils in Alps Spirit are now available on the United States Caran d'Ache website.